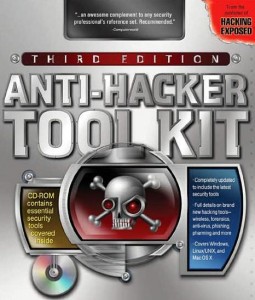 Ebook: Menggunakan 100 Tools Hacking
Diposting oleh: Ilmu Website
kategori:

EBOOK
(Update Ebook New Version) Satu lagi sumber kekuatan para IT Security, dan sumber yang di cari-cari oleh para newbie yang ingin tau lebih dalam teknik-teknik hacking/cracking, ada satu ebook yang patut dijadikan rujukan. Ebook ini berjudul "Anti-Hacker Toolkit". Dalam buku ini dijelaskan secara mendetil bagaimana cara menggunakan lebih dari 100 tools hacking. Penjelasannya secara teknis cukup mudah untuk dimengerti dan diikuti. Selain membawakan penjelasan tools dalam menyerang, disini juga dijelaskan topik mengenai mendeteksi adanya serangan dan menangani serangan tersebut. Topik-topik yang dibahas antara lain port scanners, vulnerability scanners, password crackers, and war dialers.
Promo Tutorial Premium
Video Tutorial Mahir Web Development (Bangun 5 Project Website) + Video Tutorial Membuat Aplikasi Mobile (Bangun 4 Aplikasi Android + Upload Playstore) + Bonus Tutorial Membuat Theme Wordpress Premium - 3 Tutorial (5DVD) Hanya Rp 137.500 - Terbatas hanya sampai 17 Agustus 2019!
Dibuat oleh praktisi yang memiliki pengalaman lebih dari 10 tahun di bidang web development (Pemesanan bisa SMS/WA ke 0838 1157 5876, atau bisa pesan secara online di sini)
Toolsnya antara lain Netcat, Nessus, Tripwire, John the Ripper, and the Forensic Toolkit. Silahkan di unduh disini ...
Artikel Terkait :